▶The most important thing for quality of Thermal Laminating is the precise temperature control of roller.
▶If the difference of temperature between central part and both sides of roller is over 10 , this could be a cause of decisive error for laminating quality.
▶Basic Difference of Temperature in high speed condition;
- Heated Water or Oil Heat Medium Circulation System : 10
- Non Circulation System : 20
▶ However, GMP World First Developed Induction Heating Roller System controlling the difference within 2 and if necessary, the warm-up time can be reduced (within 5
mins.) and operating temperature can be increased (by 400) and can reduce difference of temperature (by 0.5 )
▶ Then, this is the remarkable technology for laminating.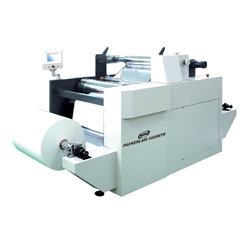 ▲ PACKERLAM-800RTR
Roll-to-Roll Laminating

- Printing (Shopping Bags, etc.), Heating Film
Roll-to-Roll Embossing
- Heat Treatment for Film & Various Substrates
Film for Battery, Optical Film for LCD
Bonding for Various Metal Substrates
- Thin Aluminum, Copper, etc.