GMP (YP Kim, President and CEO) has been recognized once again as the leading Company of Printing Industry, Digital Printing Industry, Publishing and BookBinding Industry for its superior technology by demonstrating GMP Thermalami Machines and Digital POD Laminators at the KIPES 2008 (KINTEX, ILSAN) from Sep. 25th ~ Sep. 28th.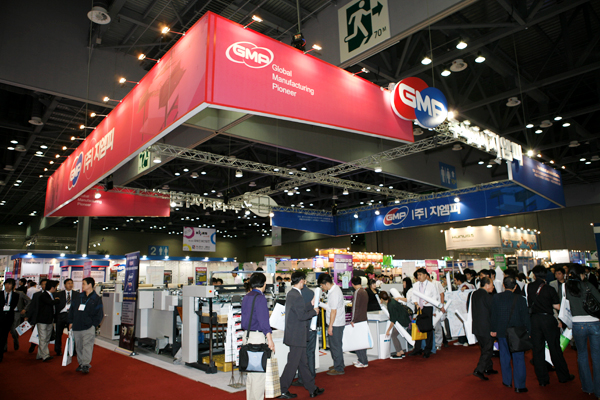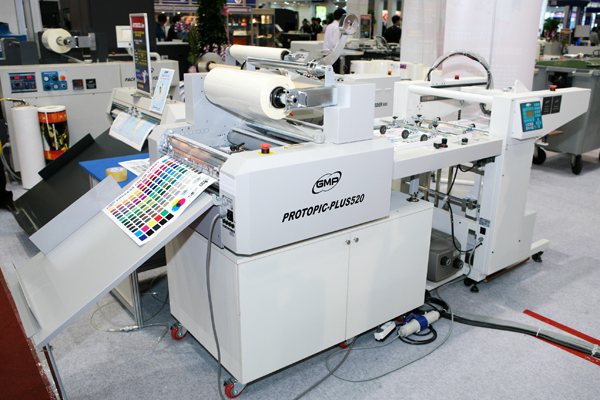 PROTOPIC AND EUROLAM SERIES has been confirmed as the best POD laminator for Book Covers and Catalogues at the Printing House and also had gathered great attention from the people who run Copy Centers. PIONEER SERIES had also received great attention for its environment friendly Thermalami System with large volume workload and it had shown possibility of perfect adhesion without any bubbles for all kinds of prints. Everyone had agreed that it is the best product for large volume laminating process with high speed.
▶ PROTIPIC-PLUS520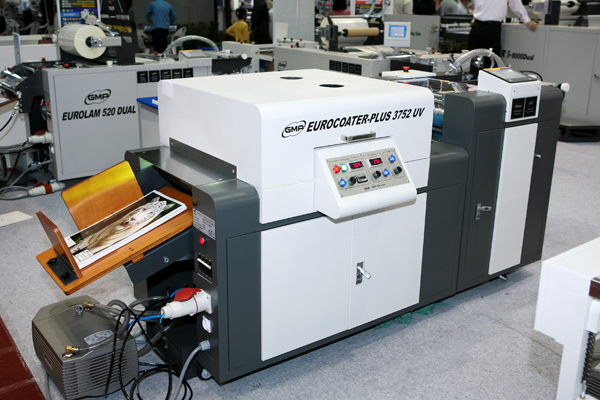 Eurocoater UV Series is a full automatic UV Coating Machine especially for Digital Prints with 3 roll coating system, precise coating thickness control device, coating liquid automatic circulation pump which can provide precise operating. Also for its UV Lamp time of usage indicator and fire-proof function, Eurocoater Series had greatly attracted Local and Global POD Service Companies, even World Famous POD Printer Manufacturers.
EUROCOATER UV ◀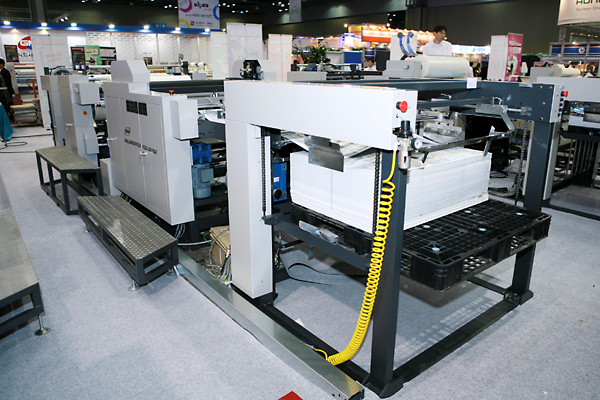 GMP's state-of-art Machine with the speed of 100m/min., CHALLENGER SERIES can perform Glossy and Embossing Thermal laminating simultaneously. And also newly introduced CHALLENGER DOUBLE is designed to laminate both side at the same time which was very popular for Companies who need both side laminating for Business Card, Flyers, and etc.
▶ CHALLENGER-PLUS1020DOUBLE
At the Exhibition, GMP had provided the solution for after process adhesion problem of digital prints by confirming coating results on the spot with various films that were specially designed for various digital printers.
In spite of difficulties for using general purpose laminating film due to special nature of each toners in various digital printer makers, GMP has successfully developed ULTRABOND TZ, ULTRABOND IN, ULTRABOND PV, etc that can correspond to each toner's characteristics. Above-mentioned New Ultrabond Films are getting great response in the Digital Printing Market from all around the World...
Through KIPES 2008, GMP had strengthened its brand image by strategic marketing with HP and had opened the possibility to achieve Joint Marketing and Technical Cooperation with World Famous Global Manufacturing Leaders. By the result, GMP had successfully received the order confirmation of approximately 1.5 million US dollars by selling all segments of GMP products.
GMP will hold GMP International Laminating & Coating Seminar 2008 inviting 70 people from 50 countries all around the World and will concentrate on demonstrating and educating Thermal Laminating, UV Coating, and Over Coating. GMP especially will apply GMP Laminating Films to each brands' digital prints to demonstrate adhesion strength and to test distinction with normal films. Throughout this demonstrating and training section. GMP will try to reinforce the market share for UV Coating Machines that were popular from DRUPA 2008 and will develop UV Spot Varnishing Machine in near future to make more valuable prints.
GMP will participate in KOSIGN 2008 (Korea International Sign & Design Show, COEX, SEOUL) from Nov. 6th to Nov. 9th. After GMP International Seminar and will continue to develop various segments of products for customers in Laminating and Coating Industry. GMP will also continually hold various Seminars and Conference to introduce upgraded and new technology as well as to satisfy customers wants and needs.