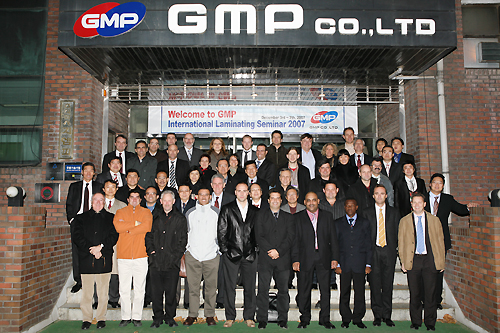 GMP International Laminating Seminar 2007

GMP Co., Ltd. (Chairman & CEO: Mr. Y. P. Kim), which has the biggest world market share and retains the world-best engineering technology in same industry specializing in Laminating Machinery and Laminating Film held an international annual seminar entitled "GMP International Lamination Seminar 2007" from 3rd December to 7th December, 2007(5 days).

Now in this year, 60 buyers from 35 countries in world have participated and praised highly by being affected the latest products and technologies of machine and film with High Technological Thermal Laminating System. Especially, the Seminar topic of this year is focused on "GMP Thermalami System" to open a new market for Printing & Publishing Industries.

In the Seminar, GMP has launched a lot of new products of Commercial Laminators, such as CHALLENGER ECO, PLUS, DELUXE Series (90-100m/min), EUROLAM-520, PROTOPIC Series including the best seller of PIONEER Series. Regarding the PIONEER Series & CHALLENGER Series, the remarkable technology for Commercial High Speed laminator has been applied to to create new market of Commercial Laminating industry

In addition, for the films, GMP has introduced "Ultra Bond" films (PET base "Perfex Ultra Bond Film", BOPP base "Polynex Ultra Bond Film", Nylon base "Nylonex Ultra Bond Film", etc.) with world-best quality of bonding power and this new product has been launched successfully with growing interest of our customers. This new products removes ahesion problems with oil added ink for Digital Printer On Demand Market, then it is expected that the "Ultra Bond" films will create a new door for exisiting market.

GMP has been participating at international exhibition more 3 times every year and acquainting world market with its superior technology and brand. GMP, leap-frogging over its competitors and expanding the world market share with the exportation, has become a first leading company with honor in laminating industry.

According to a person on duty of overseas sales division, this GMP International Lamanating Seminar 2007 is planned to increase the mutual business relationship and also to increase the mutual profit with our customers and the seminar based on GMP's natural technology makes an opportunity of standing global marketing for the Commercial Lamination with High Speed Commercial Laminators of Pioneer Series (70m/min) and Challenger Series (100m/min &12,500 sheets feeding) and of knowing new products and of increasing relationships and mutual profits. GMP received an order of 2.6 million US Dollars through this seminar.

As the buyers from the worldwide countries, the program of Seminar was very useful to be initiated new technology and build a marketing strategy in their own countries.