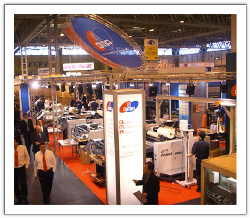 World leading laminating company GMP (CEO & President Y.P Kim) participating in IPEX 2006(is held at Birmingham from April 4th ~ 11th), received attentions from publishing companies and laminating companies again.

PIONEER Series including Products line up from PIONEER-5000BC to PIONEER-11000BC and PIONEER-8000 Dual Model's User friendliness, supplies a various multiple purpose use to customers.

Most of all, the introduced Pioneer-5000BC is a revolutionary On-demand publishing system, introduced in the IPEX 2006 and many publishing customers had a lot of negotiation with our dealer mainly due to the more secure operation with a various functional solutions.

Specially, Pioneer-8000 Dual has a product concept treating embossing and general laminating without roller exchange and installed the new induction Heating Roller technology inside the machine. And then many buyers gave high praise because of the superior laminating quality and new laminating roller technology concepts at the IPEX 2006.

Furthermore packaging and publishing companies were interested as following films;
Polynex Antiscuff Matt film without scratch based on BOPP Film,
Nylonex Antiscuff Matt film without scratch based on Nylon Film,
Perfex Antiscuff Matt film without scratch based on PET Film etc.

According to the GMP Foreign Sales Manager,
Based on the world certified GMP Laminating quality and Technology, It became a good opportunities to spread a lot of laminating solutions to world wide customers using GMP Thermalami? System at the IPEX 2006, and about 500 buyers visited on our booth, and by the negotiations, now we are forecasting Pioneer series 30ea ($3,000,000) & Thermalami Film ($2,000,000) orders. In addition to that, preparing the additional orders, we are now resetting the Pioneer lines up expansion.

Once again, we are thanking a lot for the interests and attentions to buyers coming from foreign countries in the world.