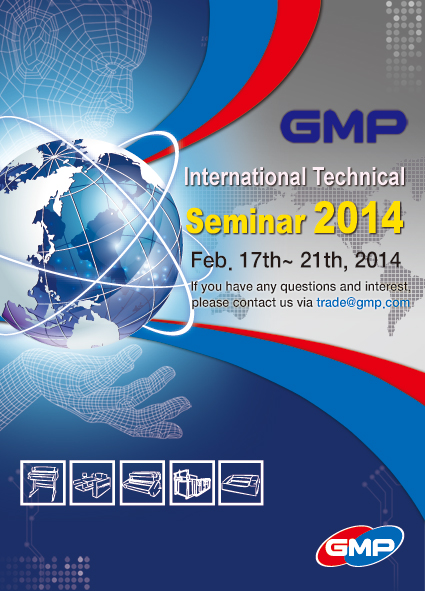 GMP INTERNATIONAL TECHNICAL SEMINAR 2014 will be held in GMP Korea Headquarters from
17th through 21st of February, 2014.
For this seminar, the engineers of GMP distributors and partners in the world will join.
This seminar will set the main focus on the practical operation of new machines, How to operate,
How to
install and How to replace a part.. Through the seminar, the partispants will be trained to
operate and understand the machinery.
It is one way of our customer satisfaction strategy and we expect that all our customer can
understand
the superiority of our technology and use
our products more conveniently.
The details are as follow;
1. Period
17.Feb, 2014 (Monday) ~ 21.Feb, 2014 (Friday) for 5 working days
. Engineer/Technician & Technical Salesmen in your company - nolimitation of trainee

3. Training Items
1)

New Laminators launched in Seminar 2013


. Pouch Machines

: FASTSYNC OMNI-320
. Desktop Machines : DESIGNER-680
. Trade Roll Machines : SURELAM II-DUO 540R
. Large Format Machines : DISPLAY-64COMBI, GRAPHICMASTER CR-64
. Feeder & Cutter

: PROFEEDER-5478, EASY CUTTER-550, Q-CUTTER 550,
SMART CUTTER-400
2)

POD & Commercial Machinery




- PROTOPIC II/III/AUTO series, EUROLAM III series, PIONEER II/III series




3) Basic of Lamination
4) GMP Sleeking Solution and Laminating Films

Product Question:
GMP Headquarters in Korea
TEL: +82-31-943-3600
FAX: +82-31-943-4433~4436 (4lines)
E-mail :
trade@gmp.com